Response to our last HIT critique was so positive, we're going to continue offering suggestions here.
This HIT asks Requesters to categorize a web page.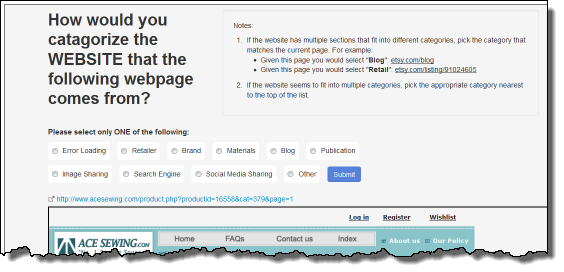 There are several things I like about this HIT:
1) The HIT requires Workers have the Categorization Masters Qualification. Workers with this Qualification (aka Masters) have demonstrated consistent, accurate performance on categorization HITs from many Requesters. This is the fastest way to get consistently accurate results.
2) Not only does the Requester provide the link to the website, he also loads the website into an IFrame window within the HIT so the Worker doesn't need to switch tabs or windows. The Worker has everything they need to complete the HIT right in front of them. This makes Workers more efficient and improves their effective hourly rate without increasing your costs. Everybody wins!
3) The Worker needs to select from a list of 10 categories.

These are placed so that the Worker can see them all without scrolling. As a Worker hovers over a category a pop-up provides the definition of the category and several examples. And I LOVE that the submit button is placed right near the categories selection so Workers don't have to scroll to submit. That's a BIG Plus for Workers!
4) The "Notes" are really instructions. I like that they provide a clear example:

Without these instructions, I might have put the etsy blog page into the Retail category because etsy is primarily a retailer. The example makes it clear I should look only at the page provided and categorize the broader site.
5) I did several of these HITs in preparing this blog post. (Yes, I have earned the Master Qualification the hard way, just like all Master Workers). One of the websites I categorized didn't load properly so I selected "Error Loading" and submitted. Only after hitting "submit" did I see this additional instruction:

I'd recommend this be added to the Instructions/Notes section. It would have saved me from a wrong answer.
This HIT follows many of our best practices for Qualifying Workers, providing clear instructions with examples and making Workers efficient by limiting scrolling and multiple windows. Do your HITs?